Hi freedivers! Last week I was in Dahab to participate in the RedCcup. It was a lovely competition with perfect conditions in the Blue Hole and very well organised by Wendy Timmermans and Pim Vermeulen.
After a DNF/CNF masterclass with Natalia Zharkova, I decided a little bit last minute to do CNF in the competition and to try to break my own national record (26m). I had only 2 training days to prepare, so I was really stressed about it. The original plan was to announce 28m on the first competition day and 30m on the second day. But at the competition meeting I got a bit scared and I announced 27m for the first day instead of 28m. As soon as I started my dive I could relax and enjoy and the dive was much easier then I expected. After I got a white card, my friend Gritti convinced me to stick to the original plan and to announce 30m for the second day. And so I did, white card again.
I'm very happy with my new national record. But what I will remember the most about this competition is the friendship and the support between the athletes. Thanks everyone for this wonderfull experience! ​ And congratulations everyone for the strong dives and the many national records!
More pictures on www.facebook.com/redccup!
See you soon in the blue,
Inge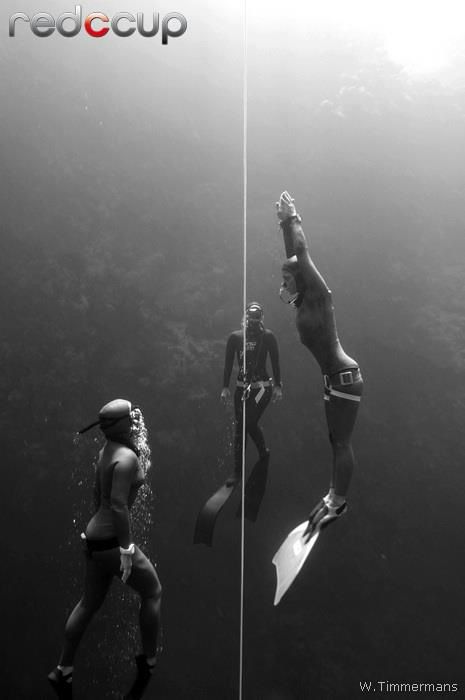 First dive of the competition: powergirl Alenka Artnik diving to 90m in CW (photo credit: Wendy Timmermans)